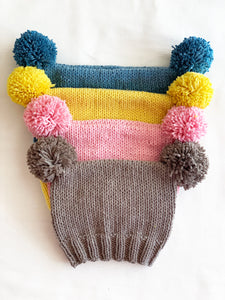 KOALA BEAR HAT Everyone went crazy over Baby Archie's adorable knitted hat! I mean if he isn't the cutest little thing ever!! We wanted to come up with a super easy version for our knitters so they cold make their little ones a hat just like Baby Archie.  The pattern comes with 4 sizes 3-6 months ( 6-12 months, 1-3 years and Child). Our verison of the hat is a little different, there are no decreases for the crowning just a 3 needle BO. This makes it a great hat for beginners!   All proceeds will be split between Red Cross...
---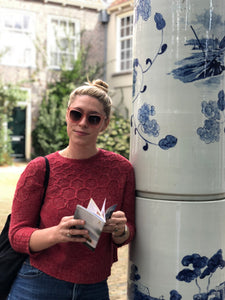 I LOVE THE WOOL AND HONEY SWEATER BY ANDREA MOWRY! Last fall Andrea Mowry came out with the cutest sweater  (The Wool and Honey Sweater) and I knew I had to make one for me!  At first I was a little hesitant because I thought it would be a little too complicated. But I was determined to make it for my trip to Amsterdam.  Next, was to determine what yarn to use for the sweater.  Andrea used Brooklyn Tweed's loft which is a fingering weight yarn, but blooms a lot once blocked.  I decided I was going to use our...
---
• FO • Winter Blossom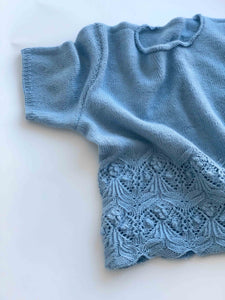 One of  favorite designers Sari Nordlund has designed a gorgeous top called, The Empress Top. She designed this top out of Winter Blossom!! I know how lucky are we for to use our yarn!! She worked her garment in Lavender and we got weak in the knees seeing the design.  She told us we could get the pattern early to make one, we jumped at the chance. We deiced to make ours in Blue Lace.  We made the size 4 which is a 43" bust. It took 4 skeins of Winter Blossom in Blue Lace. We didn't make any modifications to this design,...
---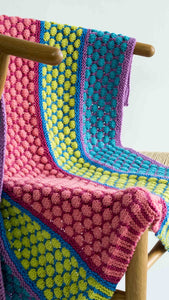 We have taken one of our all time favorite baby blankets and reworked it in one of our favorite baby yarns, Nautika! It's such fun to knit, not at all complicated, just one color per row. All the magic happens with slipped stitches! Head to Bubbles Baby Blanket Kit Page to get your kit now! We know it is soo hard to choose colors for this super fun baby blanket. We have created kit for you so you don't have to stress!  Let us know what your favorite color combo is!  Kit #1 Kit #2   Kit #3   Kit...
---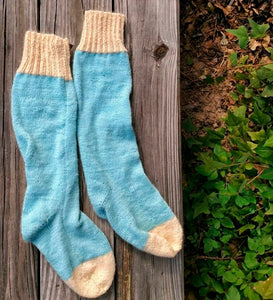 Our friend Erika contacted us with a gorgeous story she wrote about her time making sock (out of our Covet yarn) for her sister. We love to hear peoples knitting and crochet stories. Enjoy Erika's beautiful words.  I set the skeins of baby alpaca on my kitchen table, one in light blue, one in cream. The strands felt soft to the touch, perfect for the long socks I had planned. The cuff would be yellow, as would the toes, a perfect lining between the skin and tall, knee-high boots. Only, in Northwest Florida I wouldn't need such warm coverings: the...