• sneak peek cowl • Winter Blossom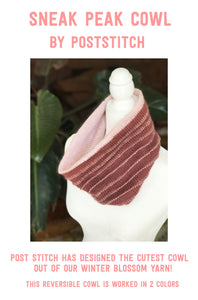 Our good friends at Post Stitch chose our Winter Blossom for their February box!! I love being able to collaborate with companies like Post Stitch. They make working together so fun and easy.  For the February box they came up with the cutest cowl! It is a reversible cowl with 2 different color of our Winter Blossom yarn.  They designed it to be easy and airy.  Head to their site to get your own kit of this gorgeous cowl! Or Purchase 2 different colors of Winter Blossom from our site and the pattern from Ravelry!
---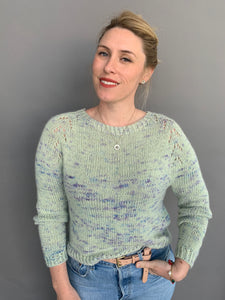 I have just finished my latest FO (finished object) this week,  Flelix Pullover by Amy Christopher!  I am so happy with how it turned out.  To make this awesome pullover I used my Covet and Hand Dyed Covet yarn colors Serpentine and Madrid held together.  I followed Amy's pattern except I cropped my a little more then the original. I am obsessed with how soft this sweater turned out, it feels softer then the softest cashmere! And can we talk about how cute it looks with a hand dyed and solid blended.  I was able to get gauge with the called for...
---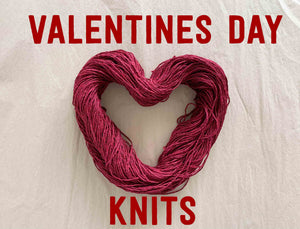 Valentine's Day is just around the corner!  Who isn't a sucker for heart and love themed knits.  I have complied a list of Valentine's day themed patterns along with Knit One, Crochet Too Yarn that will go with them.  1:Heirloom Hearts Baby Blanket by Helene Rush This adorable heart laced baby blanket takes 5 skeins of our Cozette Yarn or any other Fingering weight fiber.            2: Sweet Hearts Hat by Katya Gorbacheva This hat comes in 3 sizes S ( M, L) / 20.5 (22, 23.5)".  It calls for  50 grams of 2 colors.  We recommend using our...
---
• FO • kettle tweed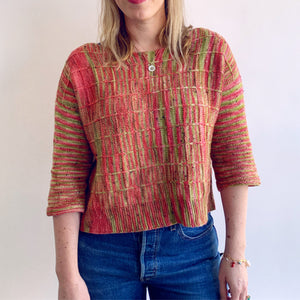 I have just finished and blocked my latest finished project!  I am so happy to be done with it and to be wearing it today. I have been working on Gridlines by Sosu knits in Kettle Tweed for the last 3 months!!! I think it might of been the longest it has ever taken me to finish a sweater. There is no reason except I was also finishing Christmas sweaters for my 3 nieces at the same time.  For my Gridlines I did size 3 with length C and it took 4 skeins of Kettle Tweed in Garden.  I am really...
---
THANK YOU!!! We want to thank everyone who purchased the Koala Bear Hat Pattern and the Koala Bear Hat Kit!! Because of of your purchases we raised $606 to be donated between the Australian Red Cross and the Wire Wildlife Rescue charities. We will continue to raise money for Australia with sale from this pattern. At the end of February we will switch charities and start to donate to One tree Planted to help rebuild the Australian landscape. This weeks knitting will be dedicated to knitting little pouches for orphaned Joeys.  Wires Wildlife Rescue has the info about what is needed...