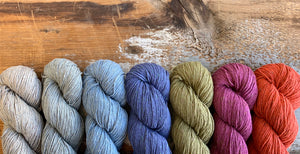 Our Niya yarn is a perfect yarn for this time of the year. Made of 100% silk in a worsted weight and comes in 7 beautiful rustic colors.  We love that you can take those worsted weight pullover /sweater patterns and make them in Niya and it will take you from deep winter to  spring and even summer in some areas.  Here are a few patterns we have designed in this yarn.  Some other designs you could use this yarn for is  Andrea Mowry's Weekender If you were going to do this pullover in Niya here is what you will...
---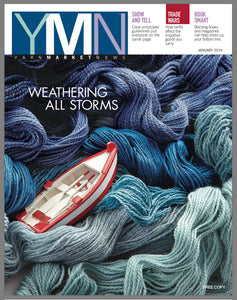 We are sooo excited for our interview to be out in Yarn Market News. I was so thrilled that they chose me to be featured. It has been a labor of love continuing to bring life to Knit One, Crochet Too yarns and designs. I never thought I would have a career where I work 24 hours 7 days a week and never get tired of it. Every day I wake up both stressed and excited about an upcoming design or new yarn development. I hope I will be able to bring all of my yarn friends many more years...
---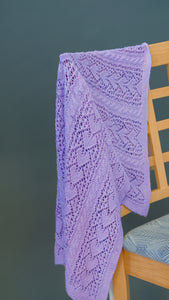 Valentines day is just around the corner!  Our Heriloom Hearts Baby Blanket is one of our favorite Valentines day knits.  It gorgeous baby blanket is worked in our Cozette yarn ( 62% Silk, 30% Cotton, 8% polymide), soft to the touch with a wonderful drape.  The pretty lace pattern looks like hearts if you look at it one way. Turn it upside down and it looks like a leaf! Which makes it great for a boy or girl. Each lace panel is framed by an easy 6-row cable. Select a deeper color, add an extra lace panel or 2, and make...
---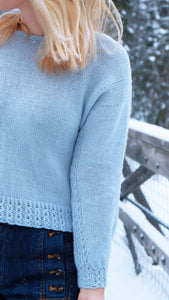 Our Lappi Pullover is our new favorite pullover!  It is worked in our Covet Yarn (100% Superbaby Alpaca). This sweater is perfect  for deep winter to chilly spring.  Measurements:  Yarn: Covet (50grm/164 yds) 100% Super Baby Alpaca #625 Celestine 5 (6, 7, 9, 10) Hanks Bust: 35 (38.75, 42.75, 47.25, 53.25)"  Length: 20.75 (22.25, 24, 25.25, 26.75)" Needle: US Size 8 ( 5mm) 16 x 24" Circular Needle Gauge in stockinette sts in the rnds after blocking: 21 stsx 28 rows=4" We love that you knit this with a US Size 8 needle so it works up pretty quick!  Worked in the round from the...
---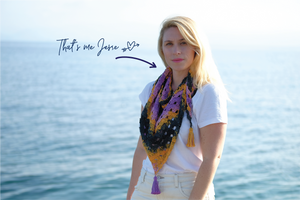 Welcome to our new website and Blog! We can not wait to share all of our favorite knitting and crochet things on here. To start we would like to just reintroduce myself.   I'm Jesse Molzan, owner and chief everything!  I purchased the Knit One, Crochet Too from Helene Rush at the end of 2016. We are going into our 2nd full year under new ownership. It is such a pleasure to be able to keep all of your favorite yarns on the market along with bring you new and exciting yarns.   We are especially excited to show you our...