• baby • Winter Blossom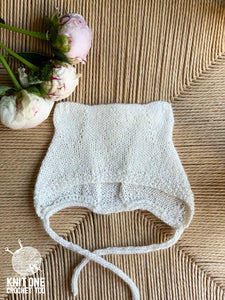 Not sure about you all but it is baby season. I have so many friends that have announced their pregnancy recently! I am so excited to get  knitting all kinds of cute baby projects.  I have seen Knitting for Olive's Baby Bear Bonnet Pattern all over Social media and have been wanting to make it. Now I have a reason!  This is such a fun pattern with a very unique but easy construction.  I was able to finish this adorable hat in one evenings knitting!  The pattern calls for a fingering weight yarn double stranded with a mohair lace. I...
---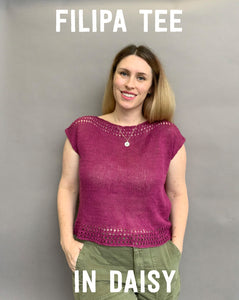 One of my favorite designs from our  Flower Collection for S/S 2020 is the Filipa Tee by Vanessa Corscarelli Black. She originally designed it in our Cozette yarn but we knew we needed to make it in our Daisy yarn.   Here is what you will need to make your own version in Daisy.  Sizes: 1( 2, 3, 4, 5)( 6, 7, 8, 9, 10) Finished dimensions: Sample shown is a size 3 on a model with a 38" bust. Note: This garment was designed with approximately 6-8" of ease for an overall cropped and boxy silhouette. Please take this into consideration when...
---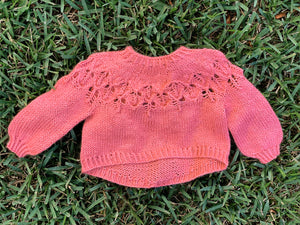 I finished a child's version of Love Notes by Tincan Knits! I love how fast and fun this project was.  I was able to get gauge with our Winter Blossom Yarn held double with the suggested needle sizes.   The size I made is the cropped child's 4-6 year old. It only took me 3 skeins held double! Here are the yarn amounts you will need to make your own Love Notes our of our Winter Blossom Yarn.            
---
• beachcombing pullover • NIya • ty-dy cotton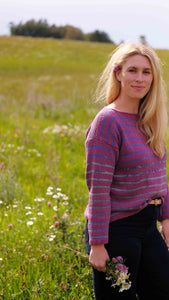 The Newest pattern from our Spring/Summer 2020 , Flower Collection is now available!  Beachcombing Pullover by Helene Rush It is worked in 4 separate pieces that are seamed together at the end.  This easy and fun garment is a perfect multi seasonal sweater!  This version is knit on our 100% Silk, Niya, and 100% Cotton Ty-Dy! I made a little video so you can see how the sweater wears! The drape is perfect! Here are some fun color combos for the Beachcombing Pullover #1: Niya:#621Tide Pool  & Ty-Dy Cotton: #729 Twilight #2: Niya #542 Lichen & Ty-Dy #682 Sunset #3: Niya #697...
---
• shawl • spring kerchief shawl • Winter Blossom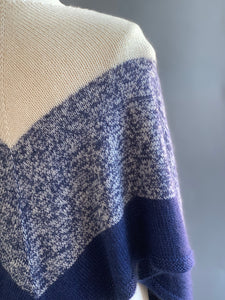 I found this great and super easy Free pattern on Ravelry and knew it would be perfect for easy TV knitting. It is the Spring Kerchief by Sachiko Uemura I used our Winter Blossom yarn in our Gardenia and Delphinium colors to create this insanely soft shawl. To recreate this shawl you will need 3 skeins of Gardenia and 4 skeins of Delphinium. For the first color section I used 1.5 skeins of the white held together and then the other 1.5 skeins of the white held with 1.5 skeins of the Dark blue for the middle section. I used...