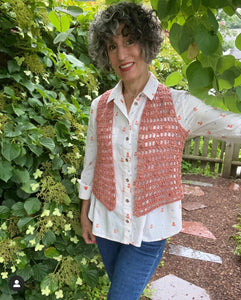 Designer Stacie Humble (@baahumble) has come out with the cutest crochet vest today, The Rambler Vest!  This vest comes with directions for a cropped ( pictured) and duster length.  This killer version was made by crocheter Susie out of our Soie Et Lin in Valencia!    We are have put our Soie Et Lin on sale for 10% off until Sunday 8/29 at midnight! Download The Rambler Pattern here! Measurements: Size 1: Bust-32-34", Width-17.5" x Length(Cropped-16") (Duster-28") Size 2: Bust-36-38", Width-19.5" x Length(Cropped-16") (Duster-28") Size 3: Bust-42-44", Width-22" x Length(Cropped-16") (Duster-28") Size 4: Bust-48-50", Width-24.5" x Length(Cropped-16") (Duster-28") Size 5: Bust-52-54", Width-28"...
---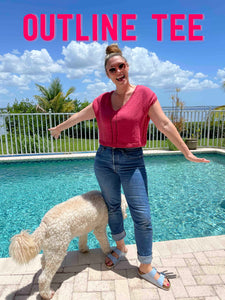 Since having my son Leo in November I have not wanted to pick up a pair of knitting needles! After 7 months I finally got the itch to get back into it. I wanted to do a project that was mindless but still had some attitude. It was perfect timing because Jessica Maed had just come out with her newest pattern Outline Tee! It is the perfect combination of simple and fun.  For my version I used our Cozette yarn! It is the perfect summer yarn for this fun top.                  Measurements for...
---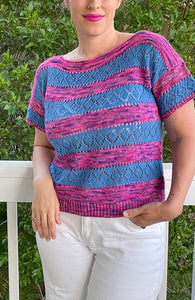 Our newest pattern is Peony Blues Tee!  It is a playful boxy tee worked in our Hand Dyed Covet and Winter Blossom Yarns.   Worked  in fun stripes the Hand Dyed Covet in stockinette and Winter Blossom in a simple lace.  The sample is shown in our Hand Dyed Covet Peony and Winter Blossom Bluebell. Here are other color options!               Hand Dyed Covet Antique Rust & Winter Blossom Silver Hand Dyed Covet Sunset & Winter Blossom Sugarbush                Hand Dyed Covet Midnight  & Winter Blossom Night Hand Dyed Covet Madrid...
---
The Charlie Vest is one of our most popular summer patterns, so we decided to rework the pattern so it is perfect for fall/winter! This pattern is now with our Allagash and Winter Blossom yarn held together to create a warm and soft textured fabric. Below I have put together color combos to help you choose a perfect color combo for you!               Color Way 1: Allagash in Blue Spruce  & Winter Blossom Eucalyptus Color Way 2: Allagash in Blueberry & Winter Blossom Blue Lace        Color Way 3: Allagash in Cranberry & Winter Blossom in Pink Wax Color Way 4: Allagash in...
---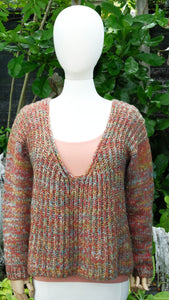 We have come out with a NEW pullover pattern today, Hoya Pullover! This cozy bulky pullover is worked with 3 yarns held together to create a fun marbled look. We used our Winter Blossom, Kettle Tweed and Sebago to get this soft and cozy feel.   Here are some other color combinations you could use for this garment.  #1 Shown in garment.  Winter Blossom in color Sage #312, Kettle Tweed Seashore #4523, Sebago Adobe #449 #2  Winter Blossom #308 Blue Lace, Kettle Tweed Lakeside #4557, Sebago Coffee #843 #3 Winter Blossom Slate #302, Kettle Tweed Mushroom #4958, Sebago Cadet Blue...