• beachcombing pullover • NIya • ty-dy cotton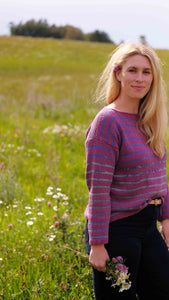 The Newest pattern from our Spring/Summer 2020 , Flower Collection is now available!  Beachcombing Pullover by Helene Rush It is worked in 4 separate pieces that are seamed together at the end.  This easy and fun garment is a perfect multi seasonal sweater!  This version is knit on our 100% Silk, Niya, and 100% Cotton Ty-Dy! I made a little video so you can see how the sweater wears! The drape is perfect! Here are some fun color combos for the Beachcombing Pullover #1: Niya:#621Tide Pool  & Ty-Dy Cotton: #729 Twilight #2: Niya #542 Lichen & Ty-Dy #682 Sunset #3: Niya #697...
---
• cotton • cottonKCAL • KCAL • Ty-Dy Cotton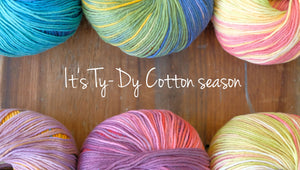 Summer is here and you know that means... It's Ty-Dy Cotton Season!!!! We are having a fun Summer Knit/Crochet-a-long!  We are going to have it start June 7th and have it run till July 31st. How it works is we want you to head to your LYS and get your favorite color of Ty-Dy cotton. Then Knit or Crochet any garment in our amazing Ty-Dy self striping cotton. Post pictures on Ravelry, Facebook and Instagram and tag #tydykcal so we can see all of your amazing project photos.   Here are some project ideas.  Jola Crochet Shawl by Joy of Motion  Oh-Pa Tee...