• FO • kettle tweed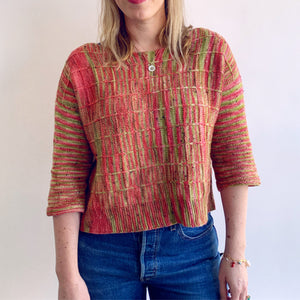 I have just finished and blocked my latest finished project!  I am so happy to be done with it and to be wearing it today. I have been working on Gridlines by Sosu knits in Kettle Tweed for the last 3 months!!! I think it might of been the longest it has ever taken me to finish a sweater. There is no reason except I was also finishing Christmas sweaters for my 3 nieces at the same time.  For my Gridlines I did size 3 with length C and it took 4 skeins of Kettle Tweed in Garden.  I am really...
---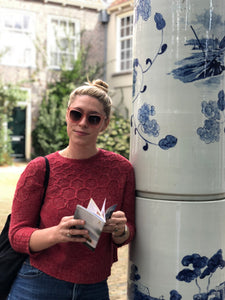 I LOVE THE WOOL AND HONEY SWEATER BY ANDREA MOWRY! Last fall Andrea Mowry came out with the cutest sweater  (The Wool and Honey Sweater) and I knew I had to make one for me!  At first I was a little hesitant because I thought it would be a little too complicated. But I was determined to make it for my trip to Amsterdam.  Next, was to determine what yarn to use for the sweater.  Andrea used Brooklyn Tweed's loft which is a fingering weight yarn, but blooms a lot once blocked.  I decided I was going to use our...
---
• FO • Winter Blossom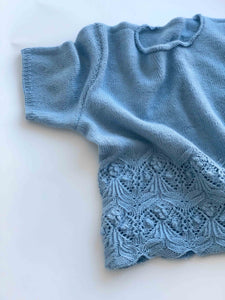 One of  favorite designers Sari Nordlund has designed a gorgeous top called, The Empress Top. She designed this top out of Winter Blossom!! I know how lucky are we for to use our yarn!! She worked her garment in Lavender and we got weak in the knees seeing the design.  She told us we could get the pattern early to make one, we jumped at the chance. We deiced to make ours in Blue Lace.  We made the size 4 which is a 43" bust. It took 4 skeins of Winter Blossom in Blue Lace. We didn't make any modifications to this design,...
---
• FO • Winter Blossom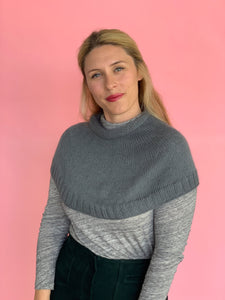 Last week the yarn shop Espace Tricote came out with a new pattern, Bonjour Hi.  I have been looking for a fun super quick project I could do in Winter Blossom, so I was very excited to see this fun little cowl/ shoulder warmer.  The pattern is FREE which is always fun, right? They made theirs double stranded with a fingering weight wool and a strand of Mohair. So, Winter Blossom is the perfect fit for this pattern cause you are getting the same look with out having to use 2 strands of yarn.  Here is what you...
---
• cozette • FO • Project • Test knit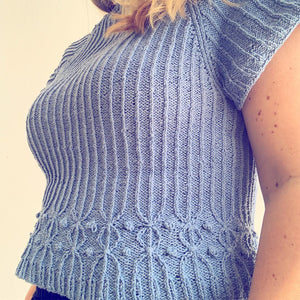 Don't you just love when it's Friday and you just finished your project?! I am so excited to rock my new top. This is the newest pattern by Christina Danaee the Minaret Top.  I made the size 4  in our Cozette yarn (62% Silk, 30% Cotton, 8% poly) and it turned out great!  If you want to make your own version of this cute top in Cozette this is what you will need.  Sizes: 1 (2, 3, 4, 5, 6, 7) Finished Bust Measurements: 35.5 (38, 43.5, 46, 52, 54.5, 58)" - – 90 (96.5, 110.5, 117, 132, 138.5, 147)cm Intended...