• cozette • FO • Project • Test knit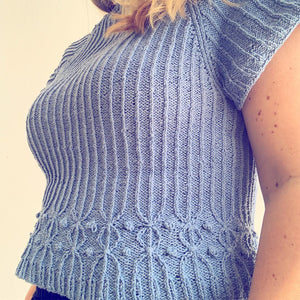 Don't you just love when it's Friday and you just finished your project?! I am so excited to rock my new top. This is the newest pattern by Christina Danaee the Minaret Top.  I made the size 4  in our Cozette yarn (62% Silk, 30% Cotton, 8% poly) and it turned out great!  If you want to make your own version of this cute top in Cozette this is what you will need.  Sizes: 1 (2, 3, 4, 5, 6, 7) Finished Bust Measurements: 35.5 (38, 43.5, 46, 52, 54.5, 58)" - – 90 (96.5, 110.5, 117, 132, 138.5, 147)cm Intended...
---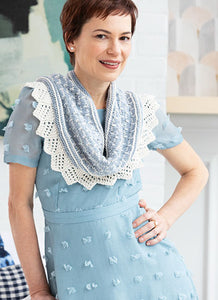 Yay Knit Simple Magazine has published their Spring/Summer issue for 2019. They have some super cute projects in there too. One is actually out of our Dungarease yarn!  Lace Ege Cowl By: Mari Lynn Patrick  Soft shades give this cowl a vintage air. The Sawtooth-lace edge is knit first in a long strip. Then the cowl stitches are picked up and knit in the round in garter- and dip-stitch stripes. Decreases shaping lets is hug the shoulders.  Materials: Dungarease (60% Cotton, 40% Acrylic) 250 yds/100 grams #120 Bone x 1 skein #610 Chambray x 1 skein Needle: US Size 7...
---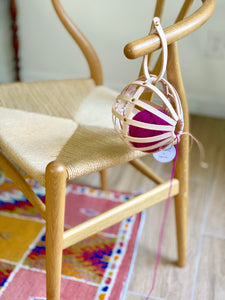 We are so excited to have the Geo-Metry's Yarn Cocoons!! They are the best way to hold your yarn! Now you don't have to worry about breaking those heavy ceramic bowls. We love how light and gorgeous these cages are.  You can strap them to your wrist, attach them to your bag or just lay it next to you on the couch.  Here is a little video on how to use the Yarn Cocoon. Check out our Instagram for a video!  Enjoy!!
---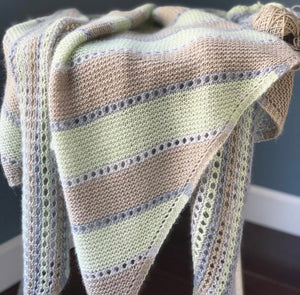 Vanessa Coscarelli Black of Vanessa Knits has designed the most gorgeous shawl out of your Covet Yarn!  Her Ocean Whisper Shawl is wonderful striped oversized triangle shape.  We have kits of this luxurious shawl on our website.  This kit ONLY includes yarn and the pattern can be purchased on Vanessa's website or Ravelry. Measurements: Wingspan x 80" Depth x 35.5" Gauge in garter after blocked: 16 sts x 36 rows= 4" Needles: US Size 6 x 60" circular needle. KIT COLORWAYS Kits are made with 6 skeins of our Covet Yarn,100% Super Baby Alpaca in a sport weight.  Colorway #1: Color A: Mink 2 x...
---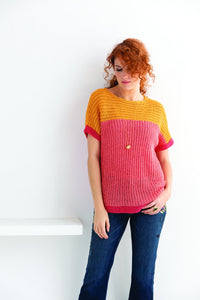 In the the lastest issue of Vogue Knitting Magazine Mari Lynne Patrick has designed the cutest spring tee in our Daisy Yarn!  Measurements:  Bust: 44 (46, 49, 52, 56)" Length: 24 (24.5, 25, 25.5, 26.5)"  Upper Arm: 12 (13, 14, 15, 16.5)"  Yarn Used: Daisy 38% Linen, 32% Silk, 30% Hemp Color A: #208 Golden Rod 1 (2, 2, 2, 2) Skeins Color B:# 209 Salmon 3 (3, 3, 4, 4) Skeins Color C: #210 Holly Hock 1 Skein