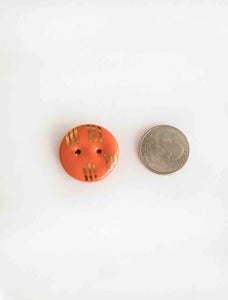 Handmade ceramic buttons: Orange with Gold Stripes medium
Regular price
$3.00
$0.00
These gorgeous ceramic buttons are handmade by Kazuri Buttons in Nairobi, Kenya. 
This medium sized button has a orange with gold stripes. 
Size: 1.25" 
Sold as single buttons.
*Note - These are hand made, hand designed glazed buttons. There may be some slight variations in colors and design in each bead. You will receive a button very close if not precisely like the pictured item.

These are genuine Kazuri Button from Nairobi in Kenya...A Fair Trade Button distributed.

Kazuri Buttons are beautiful one-of-a-kind clay buttons that are hand made by women in Kenya, Africa who are paid fair wages for their work and enjoy favorable working conditions. These women are often sole providers for their children and families.
With these beautiful buttons you can add a great accent to your knit wear!

These one-of-a-kind clay buttons are hand made from the earthen clay of Mt. Kenya by women in Kenya, Africa. The colorful artwork and uniqueness of these beads reflect the true beauty of Africa.

It is an involved process…After the earthen clay is brought down from Mt. Kenya it is made into a soft malleable consistency. Buttons are then shaped by hand, kiln fired into "bisque" then hand painted with colorful "glazes" (paints). The button is then fired again in an electric kiln.

During the rainy season electricity is often interrupted during the process, which results in loss of the entire kiln contents. It takes 3 months from designing a bead to its arrival in the USA.

Thank you for your interest in Kazuri beads and know that your purchase will help to create additional jobs for women who are waiting for openings in the workshop…And thank you for loving these buttons as much as we do!
---
Share this Product
---
More from this collection